FlippedNormals - Advanced Texturing in Substance Painter
Posted on 10 May 21:54 | by
noman9man
| 22 views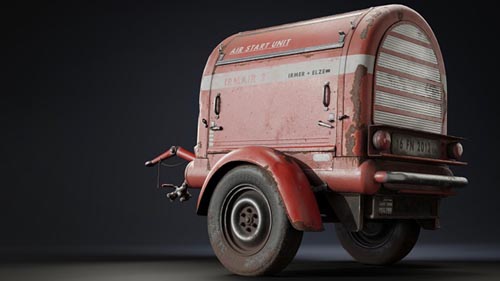 FlippedNormals - Advanced Texturing in Substance Painter
Duration 5h Project Files Included MP4
Info:
Advanced Texturing in Substance Painter
In Advanced Texturing in Substance Painter, you will learn how to create well-organized, high-quality advanced textures using Substance Painter and how to render assets - along with their textures using Blender & Cycles.
WHAT YOU WILL LEARN
Learn how to prepare an asset for baking and how to create a quick and perfect bake using Substance Painter. You'll also learn how to create flexible smart materials, how to create hyper-realistic rust and dirt and how to manage correct material response on your textures. In Blender you'll learn how to set up a render scene, adding materials to your models and adding a custom sky HDRI along with sky and area lights. and how to set up and save a final render image.
ABOUT YOUR INSTRUCTOR
Emiel Sleegers is a senior environment and material artist currently working in the AAA Game Industry. He's worked on games like The Division 2 at Ubisoft, Forza Horizon 3 at Playground Games, and as a Freelancer on multiple projects as an Environment Artist and Material Artist.
FILES INCLUDED
5 hours worth of HD Video Footage
Source files
SKILL LEVEL
You need to know the basics of Substance Painter and Blender. If you don't know these basics then we recommend that you watch our introduction courses.
Introduction to Substance Painter
Introduction to Blender
SOFTWARE USED
Substance Painter 2021.1
Blender 2.92
CHAPTER LIST
01 - Explaining the Reference
02 - Baking the Model in Substance Painter [Substance Painter]
03-04 - Creating Smart Materials [Substance Painter]
05-08 - Creating and Placing Rust [Substance Painter]
09 - Adding Extra Dirt and Details [Substance Painter]
10-11 - Setting up our Render Scene [Blender]
12-14 - Polishing our Render Scene and Textures [Substance Painter & Blender]
15 - Final Polish and Overview
Credit: Special thanks to Clément Moreau for allowing us to texture his 3D model for this course
---
Related News
System Comment
Information
Users of Guests are not allowed to comment this publication.